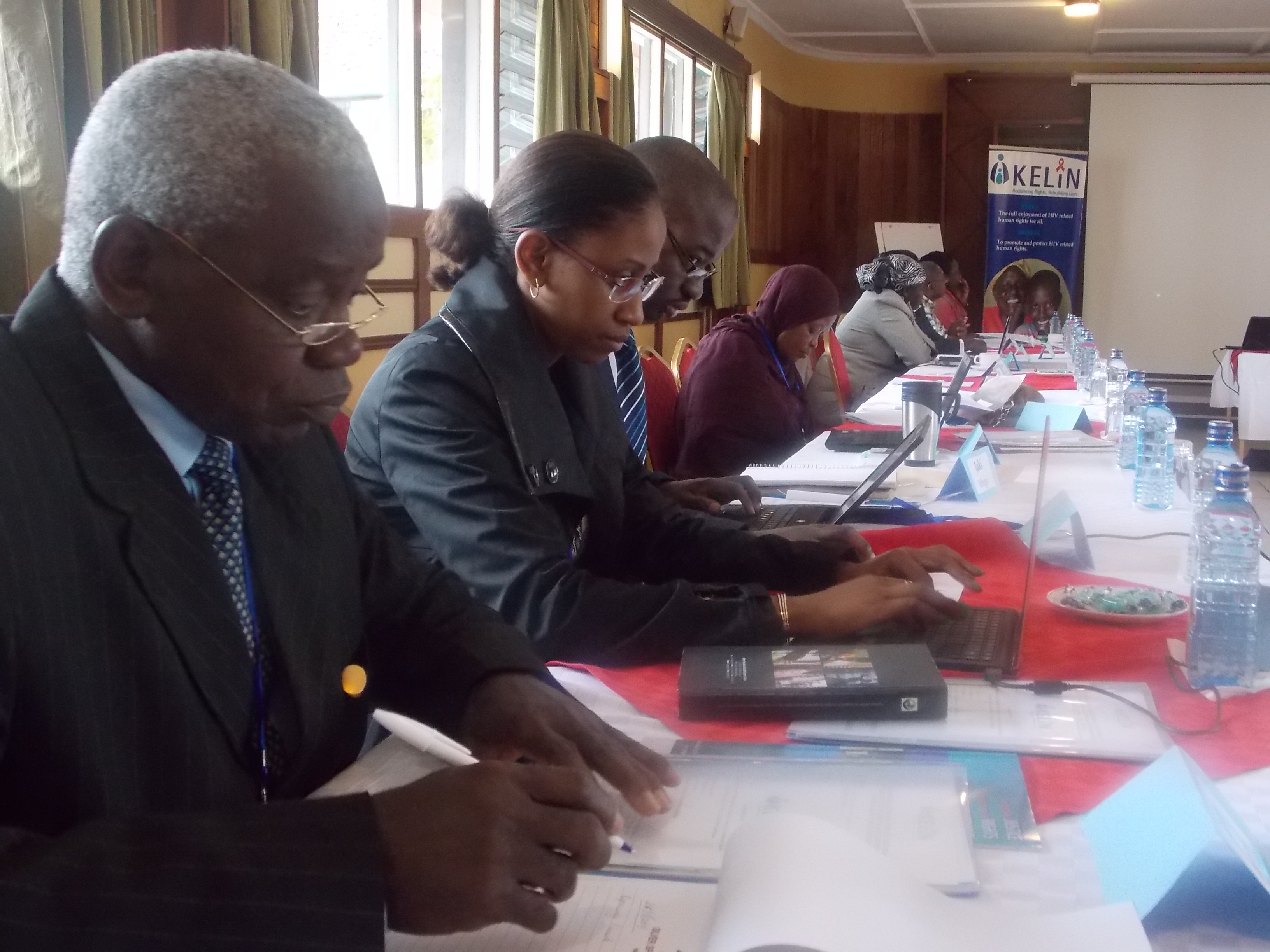 Participants referring to their notes at the forum                       Picture by KELIN/Martin Namasaka
"Although the Constitution of Kenya (2010) at Article­­­­­ 40 (1) guarantees women's right to own land and other properties, women still struggle to realize this right because of patriarchal attitudes, cultural practices and lack of information and awareness of these rights by women."
This is according to KELIN's Litigation and Legal Services Officer Ms. Belice Odamna ahead of the two day advocacy forum taking place from 26th -- 27th August 2013 in Nairobi. The objective of the advocacy forum is to disseminate the findings of a research on the role of traditional justice systems in light of the provisions of Article 159 (2) (c) & (3) of the Constitution of Kenya in relation to women's land and property rights.
KELIN's Cultural Structures Project (CSP) which has for the past five years worked with Councils of Elders in Homa Bay and Kisumu counties using various strategies including mediation, to prevent and respond to the violations of the inheritance rights of widows whose property is grabbed away from them following the death of their husband, will form part of the discussions.
The forum will also serve as a venue to generate recommendations from the participants on how to institutionalize the traditional justice system in line with articles 159 (2) c and (3) of the Constitution of Kenya 2010. The participants present include representatives of the judiciary, civil society organizations, community members, legal professionals, religious leaders, elders, widows and chiefs.
It is expected that after the two day forum, there will be an enhanced awareness of the opportunities the cultural structures present in access to justice for women on land and property rights at the national level. Recommendations obtained from the forum will inform how the traditional justice systems can be institutionalized within the formal justice system in line with articles 159(2) c and (3) of the Constitution of Kenya 2010.
The final report will be disseminated to stakeholders and posted on KELIN's website for them to contribute to the ongoing discussion on actualizing women's rights to own and inherit property.
You can also follow KELIN on our Social Media Platforms for the latest news, jobs, updates, videos, info, events and much more here;

Twitter: https://twitter.com/KELINKenya
Facebook: http://www.facebook.com/kelinkenya