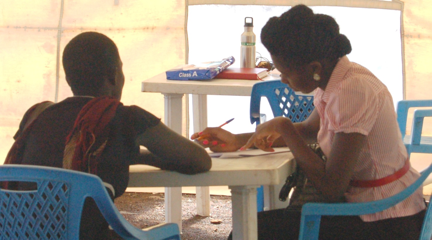 Ms Dorcas Oluoch (right) gives legal advise to a client during the legal aid clinic in Kisumu. Photo by: Martin Namasaka/KELIN
"Our legal aid clinics are not only aimed at giving legal advice with the help of pro bono advocates. They also refer some cases to relevant courts, the HIV and Equity Tribunal and to partner organisations for counselling."
This was emphasized by Ms Belice Odamna, KELIN's Litigation and Legal Services Officer during a Legal Aid Clinic organized by KELIN in partnership with the Law Society of Kenya (LSK) and the National Empowerment Network of People Living with HIV and AIDS in Kenya (NEPHAK) in Kibra consitutency, Nairobi, county on 19th April, 2013. A similar clinic was conducted in Kisumu county on 5th April 2013 with the support of the Open Society Foundation.
Twenty clients (13 of whom were female) including a woman with disability were attended to in Nairobi and 42 clients (29 of whom were male) in Kisumu. Most of the cases revolved around property ownership, land inheritance, and discrimination in the workplace due to one's HIV status. Clients were advised on available forms of redress such filing their cases in courts or tribunals or tapping alternative dispute resolution mechanisms.
As the 55 new cases are being subjected to further analysis by KELIN's Litigation and Legal Services Department, KELIN is taking on one of the cases presented during the legal aid clinics. Client Jashon, a Person Living with HIV (PLHIV), found his ancestral land, where his house stands, sold by his relatives without his knowledge and consent. The new owner has served him with an eviction notice with the intention of occupying the land.
KELIN has already asked the court to cancel the title deed issued for the piece of land which was acquired fraudulently without a grant of letters of administration in place.
The legal aid clinics ended with the recommendation on the need for more initiatives of ensuring access to justice, educating people about their rights, challenging stigma and discrimination within families, communities and the workplace in accordance with the findings of the Global Commission on HIV Law report and Article 48 of the Constitution of Kenya.
You can also follow KELIN on our Social Media Platforms for the latest news, jobs, updates, videos, info, events and much more here;
Twitter: https://twitter.com/KELINKenya
Facebook: http://www.facebook.com/kelinkenya